More than 30 years of experience
We keep our focus high and excel above the leading competitors in all three security services.
Government Background Investigations
built on a strong foundation of trust
A corporation truly unique amongst other corporations within the same industry.
Living by the importance of hard-work, a focus on clients and service to the community.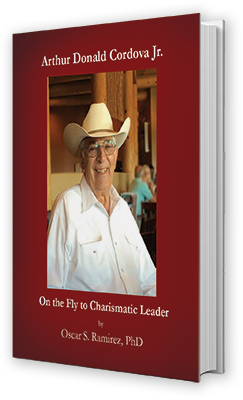 On The Fly to Charismatic Leader
This is not solely a biography of Arthur Donald Cordova Jr. who refused to be relegated to a marginal position within our society or imprisoned by what people think. This book is an insight into his thinking processes, how he grew up in Jarales, New Mexico, how his indwelling values, indominable guts (Elan Vital), panache and passion set him apart from others to found, develop and lead one of the largest security companies in the United States. Without doubt, he has stood the test of time! He proved himself to be strong and vital not only in defying all challenges but succeeded as a business entrepreneur, family man and community leader. He has well represented the spirit-of-time, that is, what it takes to be human.
A quick read on how a charismatic approach, insight, courage and ambition led to the development of one of the largest private securities companies in the United States.